Pioneering e-commerce solutions outside the box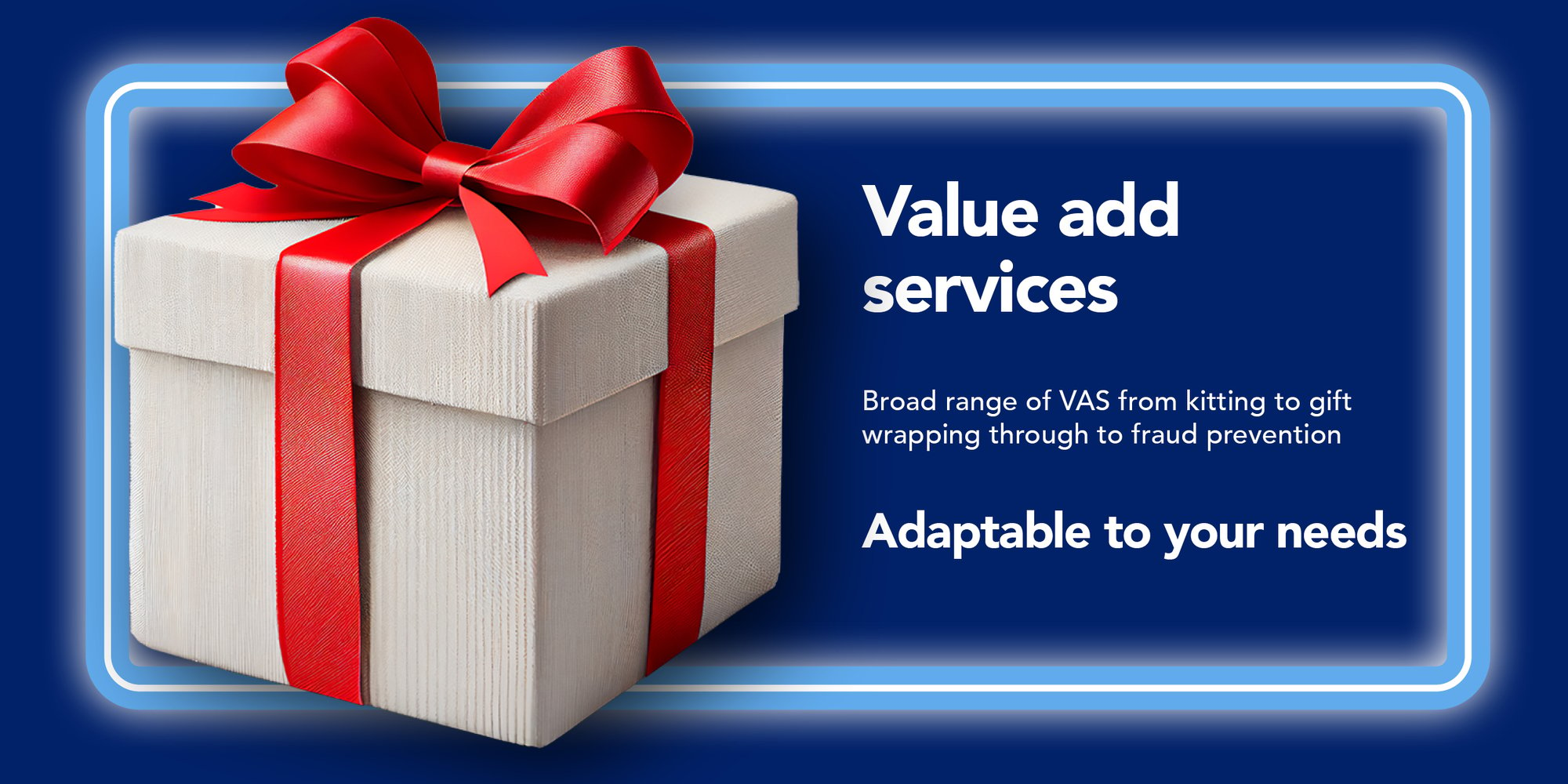 Value add Services
We offer a broad range of omni-channel services, including returns management and in house repair services, co-packing and gift wrapping. We enhance the customer experience the way you want.
We provide scalable and transferable co-packing operations to support marketing and promotions, general day to day operations, packaging and weight reduction, cost saving, bundling and kitting initiatives. Whether its personalisation of individual or sets of products, we want to enable you to be able to do more with the items in your inventory to give the ultimate box opening experience or seamless inventory. In addition we offer quality control service, removing and replacing defective items and reporting on them before they are dispatched to the consumer.
Our solutions include (but are not limited to):
Co-packing

Personalisation

Kitting/Bundling

Gift Wrapping

Channel-specific boxing

Etching

Key-cutting

Embroidery

Quality control
Security and Fraud:
Our sites can cater to security of high value products and fraud prevention. We have caged areas, plus some sites implement TAPA security to ensure a strong level of security, subject to the product.
Using our technology and skill sets we can identify fraudulent orders early in the supply chain, thus significantly reducing the number fraudulent orders that reach the end customer, thereby maximizing operational efficiency, reducing losses and supporting the customer experience.
Our solutions include:
Linking own fraud signals to customers data network

Implementing risk-based or step-up authentication

Address verification services

Training of customer service reps on fraud

Keep fraud prevention software updated

Highly secure TAPA - shared-user technology warehouses

Asset management, traceability and visibility
We'd love to talk to you
Emma's extensive background, spanning logistics and retail distribution, underscores her adaptability and ability to excel across diverse industries. Her vast skill set and rich experience position her uniquely to chart new territories for Unipart's e-commerce sector.